Who We Are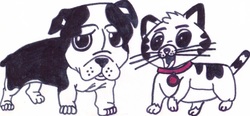 Fur a Good Paws is a donation-based 501(c)(3) non-profit in Clay County, Illinois.

As a small group of local citizens, we.....
-- operate a no-kill rescue and adopt pets out to forever homes,
-- increase awareness about the importance of spaying/neutering.





---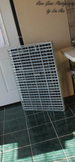 The items in these pictures are some of the donations we received the week of September 11 at our rescue. We really appreciate all the donations we receive that help us to take care of our 30+ cats and kittens that we currently house.
Item on the left is a folded cage which we can use either for a dog when we get that area finished or for 2 or 3 small kittens if need be.
The lower picture on the left is of a carrier sitting in 2 or 3 litter pans which always come in handy for our cats and kittens.
And the last picture is of a large pile of blankets, towels and bed pads that we use for beds in the cages for the rescues to sleep on instead of just sleeping on the floor on newspaper or the bare shelf.

Thank you Angie Garrett for this donation.

---
Board of Directors Members--Volunteers

BOARD MEMBERS

Trudy Lambird Trudy Lambird, President
Linda Waller Julie Maurice, Vice President
Julie Maurice Gina Douthit, Secretary-Treasury
Barbara Tackitt Lou Ann Carpenter, Communications
Dr. Colleen Murphy Donna Corry, Support Person
Michael Anderson Carolyn Wickiser, Office Volunteer
Jessica Muskopf
Jackie Richardson, Foster Parent